Search tool and sort results
Search tool and sort results
How do the advanced search tools work?
On the home page (or magic desk), there are two independent search engines: one for animals and one for customers; There are also search engines on the main screens (View > Animals, View > Customers, View > Booking ...).
They incorporate a self-completion system that will save you a lot of time. In the customer search, type the name, surname or customer number and the search engine will automatically show all matches.
For example, you write: Jo: the search tool finds all results that match those letters: Joan, Paul Jones and Beth Johansson.
It is not necessary to write quotes "" or any other symbol, simply type the letters that you're looking for.
It is a great help, with just writing 3 letters, the search engine begins to run through all your customers and shows them for you to select the desired one. It is not necessary that you write ANTONIO, only with writing ANT already appears:
To help you locate what you are looking for, we include more information on searching, for example, if you are looking for an animal called Coco, it is possible that there are a lot of animals with the same name and even the same breed. In that case, it would be difficult to know which one we are looking for.
Coco Labrador Male Frank Smith
Coco Cocker Male Anne Jones
Coco Yorkshire Female Marie
If the word is very common and you have many records in your database, many results will appear. In this case, you can do a more accurate search.
Let's show you how to do it in an example.
If you are in the View > Customers option, for example and you are looking for Col, these results will appear:
Colon New York Frank Smith
Roky Colombia Carmen Ruiz
Piccolo Roma Carlo Colorado
You can refine the search by joining criterias. To do this, use the + symbol.

You can sort the information as you prefer
Además, puedes ordenar los resultados.
Also, you can sort the results. For example, this list of customers is listed alphabetically by name, but you can change it and it is ordered by the address, location, ... simply by clicking on the corresponding field in the header of the table.
note:If you press again, change the descending order - ascending
Incluyen auto-completado super rápido
If you write a zip code and self-complete the city and state. Our database already includes this information from a large number of countries and we are including more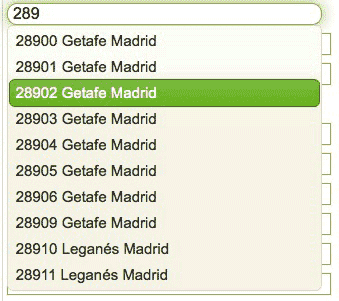 The operation is the same for the breeds. It's very easy because you do not have to write the complete race and you avoid writing mistakes.



note: By default, there is a database with breeds, but you can add more from the Settings option > Breeds