Complete pet grooming software handbook
Complete pet grooming software handbook
Here we explain, "in a few words" how the software works:
The software allows you to manage groomings, SPA's and beauty centers for any pet: cat, dogs, etc. and the operation is:
1. Customer and animals are always associated. All animals must have an associated owner and every owner must have an animal associated to make a appointment or service.
2. Appointments or "booking":
The customer can request an appointment or reservation for a date and when that date arrives, bring the animal to the center to do the service.

It is possible to do a service without the client having requested a previous appointment.

We make new service directly (new> service) or if you have an appointment, we make new service from that appointment

When we record the service, it remains in the "pending invoice" status.

At the moment that the client is going to pay the service, you do the collection and billing of the service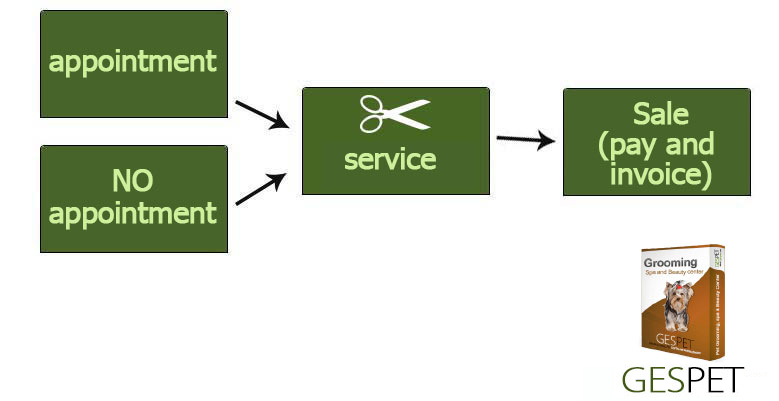 3. The correct order to insert the data is:
Check that the customer is not annotated in the software

Insert the customer data

Insert the animals of that customer

Now you can insert new appointments, services, ...
NOTE: In the pet-shops, usually a generic customer is used to make sales without associating a customer. It can be called, generic client, "cash" client, POS customer, "default" customer, ...
In the pet grooming business it is not so usual, because your customers may be recurrent or habitual and because it is very possible that you want to keep a history of the services done to an animal, the preferences of each client, etc.
If you want, you can create a generic customer with a generic animal and you can sell services and products by selecting that customer/animal and thus it is not necessary to have your data stored to make the sale.
Click here for more information
In the top menu you can access all the options. On the main options are drop down with additional options.

TAGS:
manage grooming | manage pet grooming | grooming for animals | managing pet spa center | pet spa software| pet spa app | pet beauty center software | animal beauty center software | how to manage a dog grooming | mobile groomer software | software for mobile grooming